Montejo is a small, newer neighborhood of 70 single-family detached homes where sales commenced in 2008.
Located on the east side of Woodville Highway (south of Four Points and north of Capital Circle SE, Montejo's new homes and amenities have drawn buyers in for more than ten years.
Homes For Sale In Montejo
Homes For Sale In Montejo
December 10, 2023
Montejo Schools
Montejo is zoned for the following Leon County Schools:
In this report, we will look at average home prices, average home values, and average home sizes in Montejo, as well as provide a complete list of all closed home sales going back to 2008 (the year home sales began in Montejo).
For the real estate graphs in this report, you will find the number of closed home sales for each year (red columns, measured on the left vertical axis) and an important real estate statistic shown in blue (measured on the right vertical axis).
The graphs and the closed sales table will be continuously updated in the future (meaning bookmark this page if you always want to know the current status of homes in Montejo).
Montejo Home Prices
Montejo Home Values
Get Our Free Market Update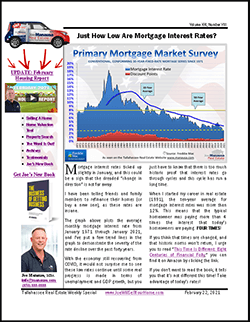 Other buyers, sellers, lenders, and real estate agents have this critical information, and now you can too!
Get immediate access to our most recent newsletter.
Let more than 30 years of experience work for you with charts, graphs, and analysis of the Tallahassee housing market.
Each Monday morning we send out a simple, one-page report that provides a snapshot of the Tallahassee housing market. It only takes 2 minutes to read, but it gives you better market intelligence than most real estate agents possess. Just tell us where to send it below!
Montejo Home Sizes
Montejo Home Sales
The following list shows all home sales in Montejo going back to 2008 (the year home sales began in Montejo).
| Address | Price | Price/SQF | Closing Date | Year Built | SQF | Sale Type |
| --- | --- | --- | --- | --- | --- | --- |
| 5241 Montejo Drive | $230,000 | $190 | 2023-11-27 | 2008 | 1,213 | Resale |
| 349 Carmen Rocio Way | $250,000 | $206 | 2023-08-31 | 2009 | 1,211 | Resale |
| 5266 Montejo Drive | $276,000 | $184 | 2023-08-21 | 2022 | 1,502 | Resale |
| 5278 Montejo Drive | $255,000 | $204 | 2023-06-26 | 2022 | 1,251 | New |
| 5240 Montejo Drive | $270,000 | $211 | 2023-06-12 | 2022 | 1,277 | Resale |
| 5224 Montejo Drive | $246,000 | $189 | 2023-04-21 | 2022 | 1,300 | Resale |
| 5254 Montejo Drive | $258,000 | $172 | 2023-01-09 | 2022 | 1,502 | New |
| 5274 Montejo Drive | $240,000 | $192 | 2022-12-08 | 2022 | 1,251 | Resale |
| 5270 Montejo Drive | $262,850 | $175 | 2022-10-27 | 2022 | 1,502 | New |
| 5262 Montejo Drive | $262,850 | $175 | 2022-10-27 | 2022 | 1,502 | New |
| 369 Carmen Rocio Way | $285,000 | $188 | 2022-10-14 | 2022 | 1,519 | New |
| 373 Carmen Rocio Way | $285,000 | $188 | 2022-08-26 | 2022 | 1,519 | New |
| 5224 Montejo Drive | $230,000 | $177 | 2022-07-19 | 2022 | 1,300 | New |
| 5228 Montejo Drive | $240,000 | $185 | 2022-07-11 | 2022 | 1,300 | New |
| 345 Carmen Rocio Way | $235,000 | $188 | 2022-07-08 | 2008 | 1,250 | Resale |
| 5232 Montejo Drive | $230,000 | $177 | 2022-07-07 | 2022 | 1,300 | New |
| 5220 Montejo Drive | $245,000 | $188 | 2022-06-30 | 2022 | 1,300 | New |
| 5258 Montejo Drive | $262,850 | $175 | 2022-06-27 | 2022 | 1,502 | New |
| 5250 Montejo Drive | $267,850 | $178 | 2022-06-23 | 2022 | 1,502 | New |
| 5277 Montejo Drive | $205,000 | $169 | 2022-06-10 | 2008 | 1,213 | Resale |
| 5286 Montejo Drive | $212,500 | $172 | 2022-06-10 | 2009 | 1,239 | Resale |
| 333 Carmen Rocio Way | $220,000 | $182 | 2022-06-07 | 2010 | 1,211 | Resale |
| 5266 Montejo Drive | $262,850 | $175 | 2022-05-27 | 2022 | 1,502 | New |
| 5240 Montejo Drive | $250,000 | $196 | 2022-05-19 | 2022 | 1,277 | New |
| 252 Belair Road | $270,000 | $178 | 2022-04-14 | 2022 | 1,519 | New |
| 349 Carmen Rocio Way | $187,000 | $154 | 2022-03-31 | 2009 | 1,211 | Resale |
| 377 Carmen Rocio Way Way | $221,900 | $121 | 2021-09-10 | 2021 | 1,830 | New |
| 5216 Montejo Drive | $202,100 | $132 | 2021-09-08 | 2021 | 1,528 | New |
| 5246 Montejo Drive | $168,000 | $129 | 2021-08-18 | 2021 | 1,300 | New |
| 368 Carmen Rocio Way | $160,000 | $122 | 2020-08-20 | 2017 | 1,312 | Resale |
| 348 Carmen Rocio Way | $177,000 | $134 | 2020-08-18 | 2018 | 1,312 | Resale |
| 302 Carmen Rocio Way | $168,000 | $140 | 2020-07-20 | 2019 | 1,200 | New |
| 306 Carmen Rocio Way | $179,000 | $119 | 2020-03-12 | 2019 | 1,510 | New |
| 310 Carmen Rocio Way | $178,000 | $118 | 2020-03-12 | 2019 | 1,510 | New |
| 5241 Montejo Drive | $145,000 | $120 | 2020-02-27 | 2008 | 1,213 | Resale |
| 336 Carmen Rocio Way | $182,000 | $121 | 2020-01-31 | 2018 | 1,510 | New |
| 352 Carmen Rocio Way | $182,000 | $121 | 2020-01-31 | 2018 | 1,510 | New |
| 340 Carmen Rocio Way | $175,000 | $134 | 2019-06-14 | 2018 | 1,310 | New |
| 5204 Montejo Drive | $153,000 | $122 | 2019-06-10 | 2009 | 1,253 | Resale |
| 356 Carmen Rocio Way | $172,000 | $131 | 2019-01-17 | 2018 | 1,310 | New |
| 364 Carmen Rocio | $148,500 | $107 | 2018-04-18 | 2010 | 1,387 | Resale |
| 5298 Montejo Drive | $136,000 | $113 | 2018-04-13 | 2010 | 1,208 | Resale |
| 5298 Montejo Drive | $85,500 | $71 | 2017-11-29 | 2009 | 1,208 | Resale |
| 5286 Montejo Drive | $93,250 | $75 | 2017-09-15 | 2009 | 1,239 | Resale |
| 321 Carmen Rocio Way | $100,000 | $74 | 2017-09-08 | 2009 | 1,354 | Resale |
| 5261 Montejo Drive | $109,000 | $90 | 2017-04-14 | 2009 | 1,217 | Resale |
| 5294 Montejo Drive | $96,000 | $79 | 2017-04-14 | 2009 | 1,217 | Resale |
| 5249 Montejo Drive | $105,000 | $86 | 2017-03-06 | 2009 | 1,216 | Resale |
| 5302 Montejo Dr | $110,000 | $90 | 2017-02-28 | 2009 | 1,217 | Resale |
| 5257 Montejo Drive | $118,000 | $94 | 2017-01-27 | 2009 | 1,255 | Resale |
| 337 Carmen Rocio Way | $123,900 | $98 | 2016-10-26 | 2008 | 1,260 | Resale |
| 5290 Montejo Dr | $115,000 | $94 | 2016-06-02 | 2009 | 1,217 | Resale |
| 5269 Montejo Dr | $77,900 | $64 | 2016-04-08 | 2009 | 1,211 | Resale |
| 5245 Montejo Drive | $106,000 | $84 | 2015-11-12 | 2009 | 1,255 | Resale |
| 5310 Montejo Drive | $106,500 | $88 | 2015-09-11 | 2007 | 1,211 | Resale |
| 364 Carmen Rocio Street | $97,500 | $70 | 2015-07-17 | 2010 | 1,387 | Resale |
| 5241 Montejo Dr | $92,000 | $76 | 2014-08-25 | 2008 | 1,213 | Resale |
| 5253 Montejo Dr | $92,000 | $76 | 2014-07-29 | 2009 | 1,213 | Resale |
| 5233 Montejo Dr | $85,000 | $69 | 2014-06-27 | 2008 | 1,225 | Resale |
| 5310 Montejo Dr | $85,500 | $71 | 2013-07-19 | 2007 | 1,211 | Resale |
| 313 Carmen Rocio Way | $97,000 | $61 | 2013-04-24 | 2008 | 1,580 | Resale |
| 305 Carmen Rocio Way | $94,000 | $59 | 2013-04-10 | 2008 | 1,580 | Resale |
| 5310 Montejo Dr | $102,000 | $84 | 2013-02-22 | 2007 | 1,211 | Resale |
| 345 Carmen Rocio Way | $115,900 | $97 | 2013-01-31 | 2008 | 1,190 | Resale |
| 337 Carmen Rocio Way | $85,000 | $67 | 2012-12-12 | 2008 | 1,260 | Resale |
| 345 Carmen Rocio Way | $55,000 | $46 | 2012-08-01 | 2008 | 1,190 | Resale |
| 5212 Montejo Drive | $130,000 | $103 | 2010-11-22 | 2010 | 1,262 | New |
| 333 Carmen Rocio Way | $135,000 | $111 | 2010-07-02 | 2010 | 1,211 | New |
| 329 Carmen Rocio Way | $149,900 | $111 | 2010-05-11 | 2009 | 1,354 | New |
| 5282 Montejo Dr | $130,000 | $99 | 2009-12-31 | 2009 | 1,314 | New |
| 317 Carmen Rocio Way | $151,000 | $112 | 2009-12-28 | 2009 | 1,354 | New |
| 349 Carmen Rocio Way | $135,000 | $111 | 2009-12-21 | 2009 | 1,211 | New |
| 5273 Montejo Dr | $145,000 | $120 | 2009-07-28 | 2008 | 1,211 | New |
| 5204 Montejo Dr | $152,500 | $122 | 2009-06-30 | 2009 | 1,253 | New |
| 301 Carmen Rocio Way | $139,900 | $117 | 2009-05-22 | 2008 | 1,198 | New |
| 5269 Montejo Dr | $149,900 | $124 | 2009-03-27 | 2009 | 1,211 | New |
| 337 Carmen Rocio Way | $148,600 | $118 | 2009-03-19 | 2008 | 1,260 | New |
| 325 Carmen Rocio Way | $157,500 | $100 | 2009-03-06 | 2009 | 1,580 | New |
| 305 Carmen Rocio Way | $150,900 | $96 | 2009-01-30 | 2008 | 1,580 | New |
| 309 Carmen Rocio Way | $143,900 | $121 | 2009-01-30 | 2008 | 1,186 | New |
| 5236 Montejo Dr | $135,000 | $121 | 2009-01-30 | 2009 | 1,117 | New |
| 313 Carmen Rocio Way | $156,000 | $99 | 2009-01-27 | 2008 | 1,580 | New |
| 341 Carmen Rocio Way | $140,000 | $118 | 2008-11-07 | 2008 | 1,190 | New |
| 5208 Montejo Dr | $151,000 | $122 | 2008-10-30 | 2008 | 1,237 | New |
| 5306 Montejo Dr | $143,000 | $118 | 2008-10-03 | 2008 | 1,211 | New |
| 5277 Montejo Dr | $155,900 | $129 | 2008-08-12 | 2008 | 1,213 | Resale |
| 5277 Montejo Dr | $90,000 | $74 | 2008-05-05 | 2008 | 1,213 | New |
| 5310 Montejo Dr | $149,900 | $124 | 2008-03-17 | 2007 | 1,211 | New |
| 345 Carmen Rocio Way | $136,900 | $115 | 2008-03-12 | 2008 | 1,190 | New |
Video Answers To Your FAQs