September Year Over Year Home Sales Decline
Posted by Joe Manausa on Friday, October 6, 2017 at 8:24 AM
By Joe Manausa / October 6, 2017
Comment
Year over year home sales comparisons are frequently used by real estate experts seeking to gauge whether a market's sales performance is improving or worsening.
So what should we believe after seeing a near 10% drop in September sales?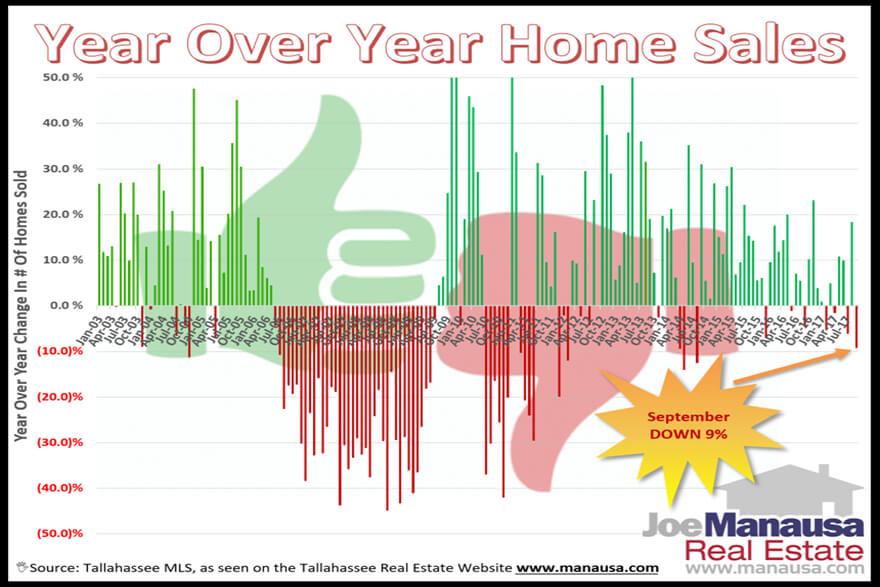 Year Over Year Home Sales Report
The graph above compares monthly home sales with the corresponding month of the previous year. When the current month reports more sales, it is plotted as a green column above the zero axis. The opposite is true for declining months and is colored red.
Over the past three years, only seven months have seen a decline in home sales while twenty nine months have reported gains. While this is a strong positive trend, a short term trend is forming and is concerning.
Four of the nine months this year have shown declines, and the most recent month was the largest decline recorded since August of 2014.
Overall through September of 2017, we have had five wins, four losses, and overall for the year the market is up 3.1%.
Did Hurricane Irma Slow The Housing Market?
It never helps when a hurricane heads our way. Even if it mostly misses us like Irma did, we still have to prepare for its possible arrival and damages.
The Tallahassee real estate market basically shut down for about a week due to preparation for Hurricane Irma, but I don't believe Irma had a negative impact on the year over year performance report. Why?
Because we had a hurricane last year in September that shut down Tallahassee even longer. Hurricane Hermine hit Tallahassee hard last year, and most real estate brokerage activities were stopped for roughly 10 days.
So if not the weather, why did we see a decline of more than 9% in home sales this September when compared to last September?
The Inventory Of Homes For Sale Continues To Decline
I believe it's a combination of several factors.
First and foremost, the recovery rate in the market is slowing down. The market is still EXPANDING, it is just doing so at a slower rate.
Secondly, the inventory of homes for sale is getting pretty thin.
The graph above measures supply (red line), demand (green line), and then calculates the trend of the months of supply of homes for sale (blue line). This "relative supply" is considered balanced when it reaches 6.0 months of supply (the horizontal yellow line), and we are definitely struggling with low inventory.
The current one-year average of the relative supply of homes is at 4.4 months of supply. While not every homeowner in Tallahassee is enjoying a seller's market, the North side of town where 80% of home sales in Tallahassee occur is definitely enjoying a sellers' market at prices below $450,000.
There are scores of buyers who want to buy a home, but they just can't find the right one among the dwindling inventory.
Regardless of year over year home sales figures, if you have a home in a sellers' market and you do the right things when you market the home for sale, it will get sold at top dollar (and Fast!).
Concerns About Market Timing
Most people who have been waiting to sell their home have been doing so because of the great decline in values that began in 2006 and continued through 2012. And if you own a home as an asset and you are not going to be buying another one, that might make sense.
Of course, if you are going to be buying a replacement home after selling the one that you currently have, that replacement home is also going up in value right now.
So what do you do?
It's not always best to sell right away, and it's not always best to wait. The key is looking at the specific markets for both the home you are selling and the replacement which you would like to buy. So how do you do that?
You talk to a true market expert (hint, hint, cough, cough). Give us a call at (850) 366-8917 or drop us a note and we'll schedule a time to evaluate your current home, as well as the neighborhood or market area to which you'd like to move, and we'll give you some thoughts on staying versus leaving. Whether you take action right away, or wait for a better time, you'll be comforted in knowing that you have the information you need to make a smart decision!