How To Squeeze Your Neighborhood Stalker
Posted by Joe Manausa on Thursday, June 17, 2021 at 5:52 AM
By Joe Manausa / June 17, 2021
Comment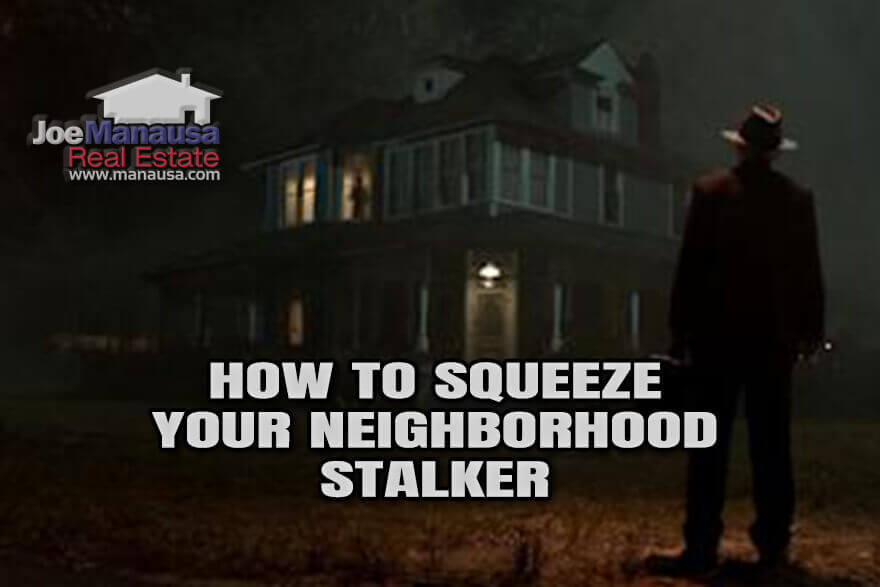 There is somebody stalking your neighborhood right now, and if you do not prepare correctly, the stalker will buy your home without paying you top dollar!
That's right, somebody is lurking around your neighborhood, just waiting for the next home to hit the market. If your marketing is not optimal, it will help this stalker get your home without having to compete with too many other buyers.
Fortunately for you, there is a process that you can use to ensure that the neighborhood stalker steps up to the plate to pay you more than you or your agent think that your home is worth!
Get More Money For Your Home
What Is A Neighborhood Stalker?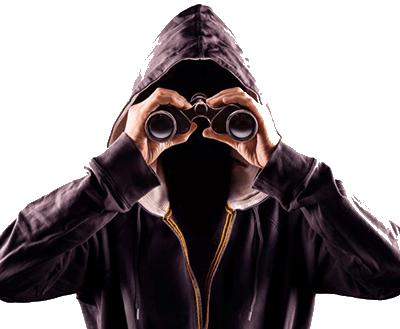 The neighborhood stalker is somebody who desperately wants to buy a home in your neighborhood. The stalker exists in sellers' markets, buyers' markets, and balanced markets too. So who or what is this stalker?
Typically, it is somebody that has recently failed at an attempt to buy a home near you. Perhaps they made an offer and were outbid, or maybe there just hasn't been the right home yet to come on the market.
But this stalker knows the neighborhood. They are ready to strike and they don't want to let a good house slip away (again). The stalker understands home valuations in your area, and won't make the mistake of underbidding a home and letting it slip through his or her hands.
The stalker is also the person most likely to pay you the most money for your home. They are experienced, they understand current market conditions, and they really (really) want to live in your neighborhood. Thus, the stalker is your ideal buyer, so you should have a marketing plan that optimizes the conditions for your stalker to pay you the most money possible for your home.
How Does The Stalker Steal Your Home?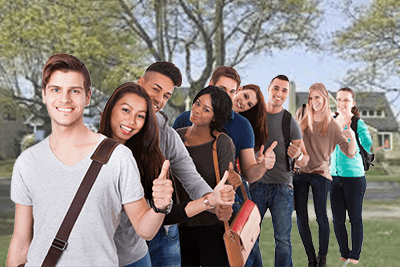 So you are selling your home, and you are like most home sellers, you probably are thinking that you need a buyer, right? What many sellers say is that "it only takes one!"
But this is poor, antiquated thinking. It's not the way to get the most money for your home.
The first thing to understand when selling a house is that you need MULTIPLE buyers. While it is true that it only takes one buyer to sell your home…the whole truth is that you need buyers bidding against each other for you to fully maximize the equity that you receive from the sale of your home.
The key to getting top dollar for your home is to bring as many ready, willing, and able buyers to the home as soon as it goes live in the MLS and on the internet. But most home sellers do not do this. They let their agent sneak them into the market, with little to no fanfare about the home before it goes live.
Here we are in the sellers' market for the ages, so even with no marketing prior to hitting the market, sellers are getting some immediate traffic. The stalker is among that immediate traffic, and the stalker is prepared to write an offer the moment he/she decides the home is right. Maybe one or two of the other buyers are ready too. So the seller negotiates with one (or maybe two) buyers and gets the home sold.
Sellers who get an offer right away believe that they've done well. But I'm seeing sellers leave money on the table because they have failed to reach the majority of buyers for their home until AFTER they are under contract. Why?
Because only the stalker is stalking the neighborhood. Everybody else just sees the home when they go searching for homes online. If the stalker has little or no competition, then you are not squeezing the most money possible from the stalker. Believe it or not, it matters. 2 offers are better than 1. 5 offers are better than 2. 10 offers are better than 5. Etc. So how do we make this happen?
There are a lot of people who endorse Joe for the job of selling your home, from Barbara Corcoran (Star of ABC's Shark Tank) to Preston Scott (host of Tallahassee's top daily "Audio Magazine," as well as the thousands of happy customers Joe has helped in the past. Listen why!
I recently stumbled upon your latest Carrabelle listing. I must say, a home on Florida's Forgotten Coast is bound to be snatched up quickly. Best of luck with getting it under contract soon!

Posted by Barbara Corcoran on Thursday, June 15, 2023
How To Squeeze The Neighborhood Stalker For Top Dollar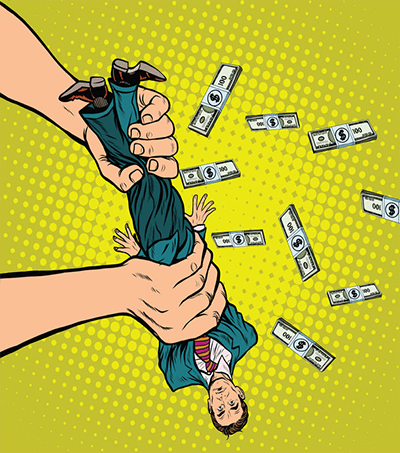 The more buyers who want the home, the more robust will be the bidding war for your home. That's how we sell homes for 2%, 5%, and even 10% above the asking price. It's all about bringing competition to the table that will force the stalker to go to the moon on his price.
So how do you ensure that the day your home goes live, the whole pool of buyers for your home is standing in the driveway, scratching to get in?
It's all about pre-marketing the home with a robust omnichannel marketing plan.
I wrote an article last year about how Steve Jobs (former Apple CEO) would sell a home. You can read it here. The article explains how Apple successfully pre-sells its products prior to a product launch. They get people excited BEFORE the product is available so that demand is strong and people are excited.
Your home should be treated the same way. It should have a product launch with a promoted "go live" date.
In the weeks and days prior to going live in the MLS and on Zillow, Realtor.com, etc., the bulk of the marketing plan should be used to get the word out. An important part of that is the marketing of the home on Tallahassee's Coming Soon Homes Website. It has thousands of subscribers who visit it regularly to learn about listings BEFORE they hit the market so they can be prepared to bid (fight) for the right to purchase the home they like.
Social media ads and large email distribution lists are used to alert people who have been searching for homes. Again, the goal is to gain massive exposure BEFORE the home is available to buy because we want everybody to know about the listing, not just the stalker who sees the "coming soon" sign in the yard.
If you want to get absolute top dollar for your home, please understand that it is the neighborhood stalker who is the most likely to pay it. But the stalker is not a fool and will only pay what is necessary to get the home. A massive omnichannel marketing plan with an emphasis on pre-marketing is the only way to ensure the competition is assembled before your home's listing is live on the internet.
Great Tips For Home Sellers
Your Local Expert In Tallahassee
When moving to, in, or from Tallahassee, you will fare better if you work with a local expert. We are here to help. If you have further questions on the Tallahassee real estate market, you can leave a comment below, give us a call at (850) 366-8917, or drop us a note and we'll give you the local information needed to ensure a successful, smooth transaction.
As a local born and raised in Tallahassee with a focus on customer service, I promise you'll find great success when working with Joe Manausa Real Estate, just as have our past customers. You can read thousands of their reviews reported on Google, Facebook and Zillow right here: Real Estate Agent Reviews Tallahassee.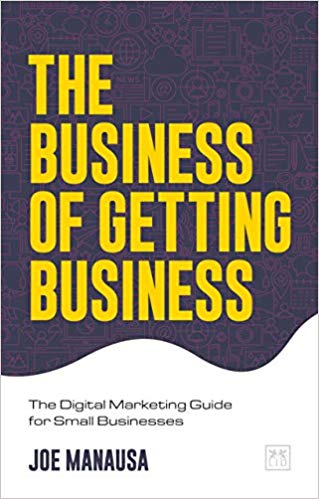 Have you heard about my new book "The Business of Getting Business?" It's a comprehensive guide for small businesses to help them make the move to digital. For those of us who want to survive and thrive in a world where large corporations are taking over, it is a must-read. It's also the perfect guide for how to sell a home in the digital age. You can find The Business Of Getting Business by clicking on any of the trusted retailers below.

Think all REALTORS are alike?
Read what people are saying about working with Joe Manausa Real Estate! You can see thousands of real customer reviews reported on Google, Facebook and Zillow at this link: CLICK HERE FOR REAL ESTATE AGENT REVIEWS.
I recently stumbled upon your latest Carrabelle listing. I must say, a home on Florida's Forgotten Coast is bound to be snatched up quickly. Best of luck with getting it under contract soon!

Posted by Barbara Corcoran on Thursday, June 15, 2023