How To Sell Your House Fast
Posted by Joe Manausa on Monday, September 2, 2019 at 5:58 AM
By Joe Manausa / September 2, 2019
Comment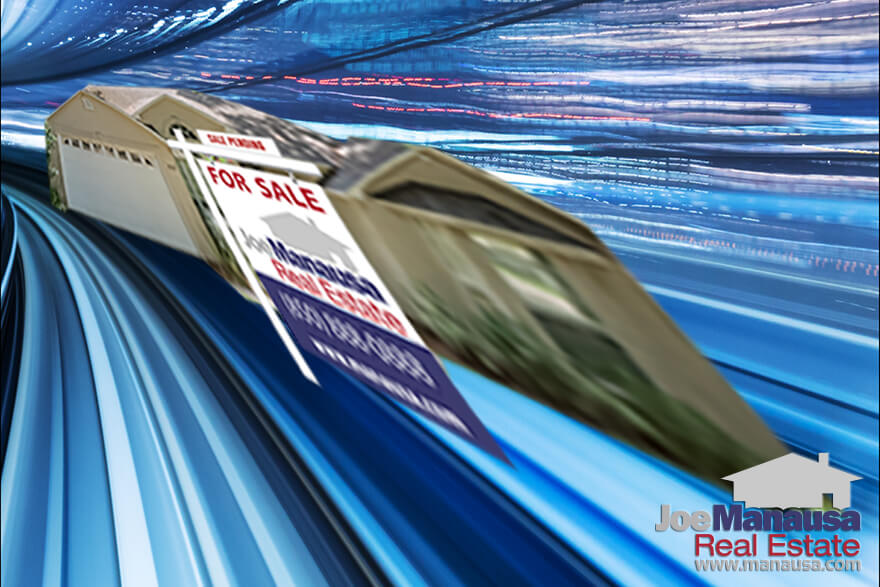 If you are wondering how to sell your house fast, then you are either in a hurry to get your home sold or you have already learned the greatest impact that digital marketing has brought to real estate.
Contrary to what you might have heard or believe, you actually stand to get MORE MONEY in a fast sale than you do in a traditional drawn-out listing with a top Realtor.
Today we'll show you why.
How To Sell A Home For The Most Money
In order to understand how to make your house sell fast, we should first examine the way that homes have been getting sold for the past thirty years or so. Before we begin, let's understand a few real estate marketing points that will likely never change:
The more buyer interest generated, the higher the final price - This one is critical and will always apply. It is simple supply and demand economics. If multiple buyers want a property, the selling price can be bid higher until only one buyer remains.
The more simultaneous interest generated, the higher the final price - This one looks like the one above, but there is a subtle difference. If we can get all the interested buyers and lookers and have them show up at the same time, then PERCEIVED buyer interest plus real buyer interest will drive the selling price higher.
So put the two together to get top dollar. We want to get everybody who wants to buy a home similar to the one being sold to show up at the same time. The combination of buyers and lookers all showing up at the same time will send a message to the real, interested buyers that there is super-high demand for the property and that they need to bid aggressively.
Marketing A Home For Sale BEFORE The Digital Age
The way we used to market homes for sale took a lot more time than does today's marketing. In fact, we do most of the job of marketing a home BEFORE we get hired than we do once the homeowner selects us to market and sell their home.
Even if you want to know how to sell your house fast by owner as opposed to working with an agent, you have to understand how things have changed. You simply can't follow the traditional marketing plan. Here's what the old-way looked like: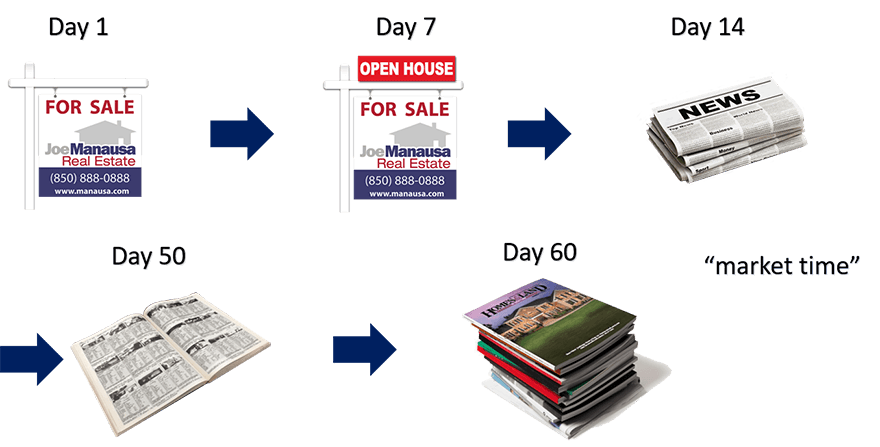 While the marketing kicked in right away, the reality is that it took sixty days or more to reach the full buyer pool. The film needed to be developed, ad copy needed to be prepared, submitted, edited, and reviewed and all within the time constraints of publication schedules for newspapers and magazines.
This lag time between signing up with a Realtor and fully being marketed to the entire pool of buyers was something we used to refer to as "market time," because you simply could not get around the fact that most buyers were using tools for searches that added 60 days to the marketing schedule.
So what did sellers due to make sure they got all the buyers to see the home before the early buyers bid on the home? They priced their home above the market during the time it took to get fully exposed, and then they lowered their asking price at that time all the buyers could know about the home. This practice of asking high and then reducing is still being used today, and it's costing ignorant home sellers a lot of money.
When I need real estate advice in Tallahassee, I call Joe Manausa. His innovative marketing attracts hundreds of buyers every month which creates more demand for your home, selling it faster and for more money. He guarantees to sell it on your timeline or he'll buy it! Call the agent I trust, Joe Manausa, and avoid the drama.
Sell Your Home Fast With Digital Marketing
Our plan has evolved significantly due to the benefits of digital marketing. Do you remember the two key points listed above required to get top dollar for your home? Here's how we make that happen today in a much better manner than was ever achieved in the past: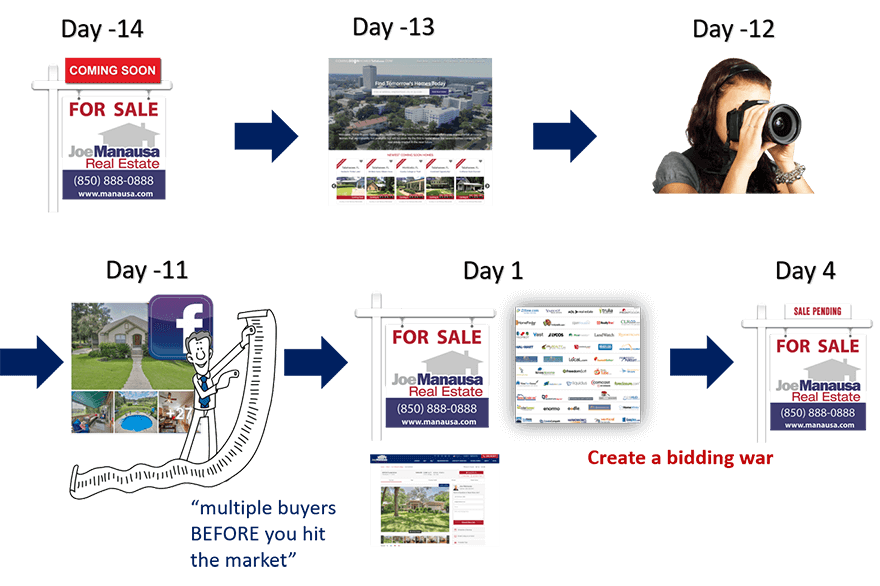 The first thing in the image above that should jump out at you is the fact that the "days" start with a negative number. This means that there is some pre-marketing required before your home is available to buyers. Remember, gathering all the prospective buyers and lookers together to show up at the same time is critical in getting a bidding war started for your home. That bidding war will not only satisfy your desire to sell the home fast, but it will also enable you to squeeze every single penny from the sale of your home.
Another piece of the image above that is so important is the "Day -11" image of a Realtor with a long list. Those of us that spend a lot of money on digital marketing each day have a large list (nearly 100,000 people in the JMRE database) who have shown interest in homes in Tallahassee. We cull through that list to find people with interest in your neighborhood and/or price range and then ensure they know about the property well in advance of it being ready for offers.
The list of buyers takes years to generate, as some people show interest in homes many years before they can or will move. Our ability to present new offerings is a primary reason they like to be on this list. This is one thing we can do for sellers that they cannot do for themselves, and it often is the reason we can get 10% to 15% more for a seller than they can do on their own.
Recently, we sold a home the day it hit the market. When buyers showed up to see the home on that first day, they saw other buyers who had appointments before and after them, so they knew it was a hot property. Unsurprisingly, we were able to fetch more than the asking price for the seller. In fact, we are able to do this far more often than we ever expected.
Sell Your Home Fast And For More Money
I hope this article has given you a better understanding of how to sell your home fast (and for more money). The need for speed might be motivated by an external situation (like a new job starting right away in another city), but a quick sale will also put you in position to maximize your recovery of equity at the same time.
Follow the tips that we provided above and use the image above from our digital marketing plan to guide you on agent selection when it comes time for you to move. If you are planning to sell a home or buy a home in Tallahassee in the near future, give us a call at (850) 366-8917 or drop us a note and we'll show you how we'll sell your house fast and for top dollar.
As a local real estate agent born and raised in Tallahassee with a focus on customer service, I promise you'll find great success when working with Joe Manausa Real Estate, just as have our past customers. You can read thousands of their reviews reported on Google, Facebook and Zillow right here: Real Estate Agent Reviews Tallahassee.
Noto Recommends You Read Joe's Book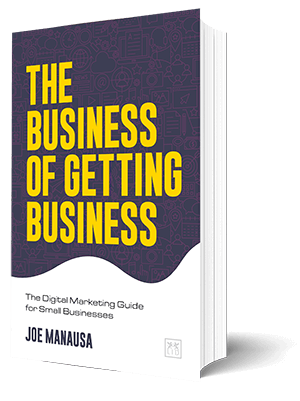 "Location, location, location' is no longer a competitive advantage. Digital marketing and going direct to consumer have made all geographical boundaries obsolete. The Business of Getting Business is a must-read modern-day survival guide for any local business to get to the next decade. Local businesses are on death ground.
They can either take a stand and re-invent themselves by embracing the digital frontier and have a chance to survive the overwhelming odds of digital direct-to-consumer capabilities that have erased all local and national business distinctions, or they can choose business as usual and accept certain death.
The Business of Getting Business is the critical survival guide for those that choose to dig in and fight."
– Anthony Noto, CEO, SoFi and former COO, Twitter
Get the book that explains it all, in a manner that is understanding to all, even technology neophytes. It's available on Amazon, a trusted source for consumers.