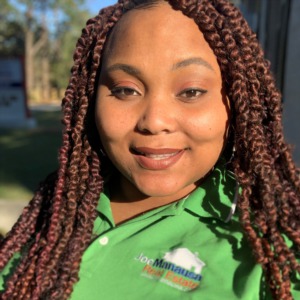 Office:
Joe Manausa Real Estate Office
Halima Ike-Wofford
Halima was born and raised in Tallahassee but spent most of her childhood in Woodville. Her whole family is from the Tallahassee and Woodville area, so she doesn't have to look far for family. She graduated from Rickards High School and attended Lively Technical College in 2016, becoming a licensed cosmetologist in 2017. Before the pandemic, Halima was a full-time cosmetologist, and she still loves to cut and style hair.
As only a true Tallahassian can, Halima was married on 02.20.2020 at Bradley's Pond. Halima's reputation precedes her as Cyndi at Mankind of Tally recommended that she work at Joe Manausa before beginning in August 2020. Halima loves Real Estate and homeownership and helping others learn the ins and outs of being a homeowner.
In her free time, Halima loves to relax with her husband Keyonta and spend time with their two pups, Spots and Dottie, who are spotted black and white Pitbulls that keep her very busy.