Adiron Woods
Adiron Woods is conveniently located off of Walden Road near Mahan Drive/Highway 90E and I-10. It is only minutes to downtown and just a stones throw away from shopping, restaurants, and grocery stores.
Adiron Woods
September 29, 2023
Under Contract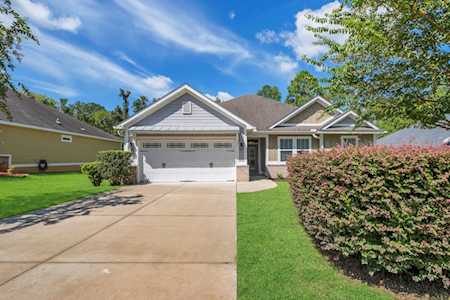 3056 Adiron Way
Tallahassee, FL 32317
About Adiron Woods
Adiron Woods has approximately 83 units/lots. The homes in this neighborhood range from 1700 to 2600 square feet and normally consist of three bedrooms, two bathrooms and a two car garage. The price range for these homes are between $205,000 - $410,000.
The neighborhood features sidewalks for those evening strolls after dinner or the morning jog before work.
Adiron Woods HOA organizes many social events so that the the neighbors feel more like family. Their events include a community yard sale, a summer social, Christmas lights contest, and much more.
The neighborhood is conveniently located to the following shopping and entertainment options: Costco, Bass Pro Shop, Wal-Mart, Academy, Publix, Big Lots, the Tallahassee Automobile Museum, Miccosukee Canopy Road Greenway and the JR Alford Greenway.
Adiron Woods Schools
Families are attracted to this neighborhood due to the "A" rated school zone. The Leon County public schools that are zoned for Adiron Woods are:
Adiron Woods Home Prices
The average home price in Adiron Woods in 2017 was $304,599.
Adiron Woods Home Values
Average home values in Adiron Woods are up.
Adiron Woods Home Sizes
The average home size sold in Adiron Woods typically falls in a range of 1,700 to 2,300 square feet.
Adiron Woods Home Sales
The following list shows home sales in Adiron Woods going back to 2005, they year the first home here was sold.
| Address | Price | Price/SQF | Closing Date | Year Built | SQF | Sale Type |
| --- | --- | --- | --- | --- | --- | --- |
| 3024 Bidhurst Court | $487,500 | $211 | 2023-07-05 | 2007 | 2,314 | Resale |
| 3052 Adiron Way | $400,000 | $235 | 2022-06-10 | 2013 | 1,704 | Resale |
| 3015 Adiron Way | $335,000 | $209 | 2022-06-01 | 2013 | 1,606 | Resale |
| 3005 Adiron Way | $382,000 | $227 | 2022-05-26 | 2013 | 1,681 | Resale |
| 3061 Bidhurst Court | $403,000 | $179 | 2022-04-29 | 2006 | 2,257 | Resale |
| 7024 Sawley Lane | $435,000 | $206 | 2022-04-29 | 2011 | 2,116 | Resale |
| 3056 Adiron Way | $362,000 | $219 | 2022-03-25 | 2012 | 1,656 | Resale |
| 3026 Adiron Way | $360,000 | $196 | 2021-12-01 | 2012 | 1,836 | Resale |
| 7040 Sawley Court | $450,000 | $174 | 2021-09-03 | 2007 | 2,592 | Resale |
| 3060 Adiron Way | $325,000 | $198 | 2021-05-14 | 2012 | 1,640 | Resale |
| 3073 Adiron Way | $369,000 | $183 | 2021-05-07 | 2017 | 2,012 | Resale |
| 3049 Bidhurst Court | $365,500 | $171 | 2021-03-08 | 2012 | 2,141 | Resale |
| 3040 Bidhurst Court | $363,000 | $186 | 2021-03-05 | 2012 | 1,951 | Resale |
| 3053 Bidhurst Court | $295,000 | $155 | 2020-04-17 | 2012 | 1,908 | Resale |
| 3040 Bidhurst Court | $350,000 | $179 | 2019-12-13 | 2012 | 1,951 | Resale |
| 3027 Adiron Way | $295,000 | $170 | 2019-12-06 | 2013 | 1,734 | Resale |
| 3018 Adiron Way | $307,500 | $181 | 2019-11-04 | 2013 | 1,701 | Resale |
| 3060 Bidhurst Court | $330,000 | $147 | 2019-10-30 | 2011 | 2,247 | Resale |
| 3069 Adiron Way | $290,000 | $176 | 2019-09-26 | 2013 | 1,645 | Resale |
| 3022 Adiron Way | $335,500 | $199 | 2019-09-26 | 2013 | 1,682 | Resale |
| 7049 Sawley Lane | $313,500 | $168 | 2019-08-30 | 2007 | 1,868 | Resale |
| 3015 Adiron Way | $280,000 | $174 | 2019-08-23 | 2013 | 1,606 | Resale |
| 3001 Adiron Way | $319,000 | $174 | 2019-08-09 | 2014 | 1,832 | Resale |
| 3056 Bidhurst Court | $302,500 | $157 | 2019-06-04 | 2007 | 1,931 | Resale |
| 7048 Sawley Lane | $400,000 | $153 | 2019-05-24 | 2006 | 2,620 | Resale |
| 3056 Adiron Way | $290,000 | $175 | 2019-04-12 | 2012 | 1,656 | Resale |
| 3031 Adiron Way | $325,000 | $170 | 2018-12-03 | 2011 | 1,907 | Resale |
| 2997 Adiron Way | $345,000 | $127 | 2018-11-30 | 2006 | 2,717 | Resale |
| 7053 Sawley Ln. | $359,000 | $143 | 2018-10-05 | 2006 | 2,503 | Resale |
| 3023 Adiron Way | $280,000 | $170 | 2018-08-24 | 2013 | 1,648 | Resale |
| 2993 Adiron Way | $340,000 | $137 | 2018-05-07 | 2008 | 2,487 | Resale |
| 7016 Sawley Ln | $325,000 | $169 | 2018-02-28 | 2012 | 1,922 | Resale |
| 3015 Adiron Way | $277,000 | $172 | 2017-12-15 | 2013 | 1,606 | Resale |
| 3014 Adiron Way | $279,000 | $169 | 2017-11-16 | 2012 | 1,647 | Resale |
| 3059 Adiron Way | $330,000 | $152 | 2017-08-28 | 2006 | 2,166 | Resale |
| 3001 Adiron Way | $298,000 | $163 | 2017-08-18 | 2014 | 1,832 | Resale |
| 2989 Adiron Way | $300,000 | $152 | 2017-08-11 | 2007 | 1,976 | Resale |
| 2982 Adiron Way | $350,000 | $139 | 2017-07-19 | 2007 | 2,521 | Resale |
| 3048 Bidhurst Ct | $255,000 | $129 | 2017-06-16 | 2010 | 1,976 | Resale |
| 3073 Adiron Way | $314,990 | $158 | 2017-06-15 | 2017 | 1,996 | New |
| 7065 Sawley Lane | $325,000 | $142 | 2017-05-31 | 2007 | 2,282 | Resale |
| 3065 Adiron Way | $317,000 | $157 | 2017-03-31 | 2007 | 2,014 | Resale |
| 3026 Adiron Way | $300,000 | $163 | 2016-12-16 | 2012 | 1,836 | Resale |
| 7044 Sawley Court | $311,500 | $136 | 2016-08-26 | 2006 | 2,283 | Resale |
| 2985 Adiron Way | $282,000 | $152 | 2016-06-24 | 2013 | 1,854 | Resale |
| 3040 Bidhurst Court | $283,000 | $145 | 2016-05-19 | 2012 | 1,951 | Resale |
| 7052 Sawley Ln | $309,000 | $134 | 2016-04-29 | 2008 | 2,306 | Resale |
| 3022 Adiron Way | $257,000 | $153 | 2016-04-07 | 2013 | 1,682 | Resale |
| 3012 Adiron Way | $245,000 | $149 | 2016-02-05 | 2013 | 1,637 | Resale |
| 3027 Adiron Way | $282,000 | $163 | 2016-01-15 | 2013 | 1,734 | Resale |
| 7056 Sawley Lane | $245,000 | $134 | 2015-12-13 | 2008 | 1,830 | Resale |
| 3004 Adiron Way | $245,750 | $151 | 2015-11-10 | 2013 | 1,628 | Resale |
| 3060 Bidhurst Court | $300,000 | $134 | 2015-09-29 | 2011 | 2,247 | Resale |
| 3055 Adiron Way | $249,900 | $132 | 2015-09-15 | 2006 | 1,898 | Resale |
| 3037 Bidhurst Ct | $285,000 | $135 | 2015-09-15 | 2013 | 2,104 | Resale |
| 7064 Sawley Lane | $310,000 | $134 | 2015-08-13 | 2006 | 2,310 | Resale |
| 3015 Adiron Way | $235,000 | $145 | 2015-07-13 | 2013 | 1,616 | Resale |
| 7053 Sawley Lane | $325,000 | $130 | 2015-04-17 | 2006 | 2,503 | Resale |
| 3032 Bidhurst Ct | $290,000 | $114 | 2014-08-26 | 2008 | 2,534 | Resale |
| 7049 Sawley Ln | $233,000 | $125 | 2014-05-30 | 2007 | 1,868 | Resale |
| 3033 Bidhurst Ct | $235,000 | $136 | 2014-05-28 | 2013 | 1,729 | New |
| 3057 Bidhurst Ct | $250,000 | $108 | 2014-04-30 | 2003 | 2,308 | Resale |
| 3001 Adiron Way | $249,900 | $137 | 2014-02-03 | 2012 | 1,830 | New |
| 3027 Adiron Way | $239,900 | $138 | 2014-01-24 | 2013 | 1,734 | New |
| 7012 Sawley Ln | $241,000 | $144 | 2014-01-24 | 2013 | 1,674 | New |
| 3069 Adiron Way | $238,500 | $145 | 2013-12-30 | 2013 | 1,645 | New |
| 3052 Adiron Way | $246,500 | $145 | 2013-10-11 | 2013 | 1,704 | New |
| 3056 Adiron Way | $235,000 | $143 | 2013-08-28 | 2012 | 1,640 | Resale |
| 2986 Adiron Way | $268,300 | $115 | 2013-08-23 | 2013 | 2,337 | New |
| 3018 Adiron Way | $244,600 | $144 | 2013-08-23 | 2013 | 1,701 | New |
| 3023 Adiron Way | $232,900 | $141 | 2013-08-22 | 2013 | 1,657 | New |
| 2989 Adiron Way | $235,000 | $119 | 2013-08-15 | 2007 | 1,968 | Resale |
| 3011 Adiron Way | $243,700 | $147 | 2013-06-24 | 2013 | 1,657 | New |
| 3031 Adiron Way | $235,000 | $123 | 2013-06-21 | 2011 | 1,907 | New |
| 2985 Adiron Way | $220,800 | $125 | 2013-06-19 | 2013 | 1,768 | New |
| 3015 Adiron Way | $232,900 | $145 | 2013-06-14 | 2013 | 1,606 | New |
| 3005 Adiron Way | $236,500 | $141 | 2013-05-15 | 2013 | 1,681 | New |
| 3004 Adiron Way | $231,600 | $142 | 2013-05-03 | 2013 | 1,628 | New |
| 3052 Bidhurst Ct | $254,000 | $126 | 2013-04-12 | 2012 | 2,009 | Resale |
| 3037 Bidhurst Ct | $249,300 | $118 | 2013-03-14 | 2013 | 2,104 | New |
| 3022 Adiron Way | $238,700 | $142 | 2013-02-28 | 2013 | 1,682 | New |
| 3043 Adiron Way | $260,000 | $115 | 2013-02-25 | 2007 | 2,260 | Resale |
| 3053 Bidhurst Ct | $234,900 | $123 | 2013-02-14 | 2012 | 1,908 | New |
| 3010 Adiron Way | $232,600 | $142 | 2013-02-13 | 2013 | 1,637 | New |
| 3040 Bidhurst Ct | $233,200 | $120 | 2012-12-28 | 2012 | 1,951 | New |
| 3036 Bidhurst Ct | $232,000 | $129 | 2012-12-14 | 2012 | 1,805 | New |
| 3009 Adiron Way | $224,900 | $138 | 2012-12-03 | 2012 | 1,625 | New |
| 3060 Adiron Way | $247,100 | $151 | 2012-11-30 | 2012 | 1,640 | New |
| 3019 Adiron Way | $236,000 | $140 | 2012-09-14 | 2012 | 1,684 | New |
| 2994 Adiron Way | $249,600 | $113 | 2012-09-07 | 2012 | 2,202 | New |
| 3026 Adiron Way | $234,000 | $127 | 2012-08-17 | 2012 | 1,836 | New |
| 3000 Adiron Way | $241,200 | $146 | 2012-07-20 | 2012 | 1,656 | New |
| 3052 Bidhurst Ct | $234,600 | $117 | 2012-07-05 | 2012 | 2,009 | New |
| 3028 Bidhurst Ct | $233,100 | $129 | 2012-06-06 | 2012 | 1,806 | New |
| 3056 Adiron Way | $232,900 | $142 | 2012-05-25 | 2012 | 1,640 | New |
| 3044 Adiron Way | $185,000 | $81 | 2012-05-21 | 2012 | 2,273 | New |
| 3014 Adiron Way | $220,300 | $134 | 2012-03-21 | 2012 | 1,647 | New |
| 7016 Sawley Ln | $210,000 | $109 | 2012-01-23 | 2012 | 1,922 | New |
| 3008 Adiron Way | $223,600 | $137 | 2012-01-19 | 2012 | 1,633 | New |
| 3041 Bidhurst Ct | $227,000 | $92 | 2011-11-17 | 2007 | 2,460 | Resale |
| 7032 Sawley Ct | $221,000 | $94 | 2011-11-04 | 2007 | 2,340 | Resale |
| 3051 Adiron Way | $196,500 | $98 | 2011-10-20 | 2006 | 2,000 | Resale |
| 3048 Adiron Way | $180,000 | $89 | 2011-10-10 | 2011 | 2,019 | New |
| 7024 Sawley Ln | $215,000 | $102 | 2011-08-26 | 2011 | 2,106 | New |
| 7032 Sawley Ct | $159,500 | $68 | 2011-08-15 | 2007 | 2,340 | Resale |
| 7061 Sawley Ln | $175,000 | $79 | 2011-07-18 | 2011 | 2,214 | New |
| 3057 Bidhurst Ct | $220,000 | $95 | 2011-06-13 | 2003 | 2,308 | Resale |
| 3045 Bidhurst Ct | $284,000 | $122 | 2011-05-27 | 2006 | 2,329 | Resale |
| 3029 Bidhurst Ct | $195,000 | $115 | 2011-05-20 | 2010 | 1,696 | New |
| 3060 Bidhurst Ct | $165,000 | $63 | 2011-04-18 | 2011 | 2,624 | New |
| 7028 Sawley Ct | $180,000 | $78 | 2011-01-10 | 2011 | 2,300 | New |
| 7040 Sawley Ct | $250,000 | $96 | 2011-01-05 | 2007 | 2,592 | Resale |
| 3065 Adiron Way | $239,600 | $119 | 2010-12-29 | 2007 | 2,014 | Resale |
| 3048 Bidhurst Ct | $237,900 | $127 | 2010-05-25 | 2010 | 1,870 | New |
| 3035 Adiron Way | $229,900 | $124 | 2010-05-04 | 2010 | 1,855 | New |
| 3057 Bidhurst Ct | $250,000 | $108 | 2010-02-26 | 2003 | 2,308 | Resale |
| 3039 Adiron Way | $242,600 | $124 | 2009-12-15 | 2009 | 1,949 | New |
| 7036 Sawley Ct | $295,000 | $131 | 2009-11-13 | 2008 | 2,252 | New |
| 3025 Bidhurst Ct | $256,800 | $137 | 2009-09-25 | 2008 | 1,877 | New |
| 3032 Bidhurst Ct | $379,000 | $150 | 2009-02-25 | 2008 | 2,534 | New |
| 7056 Sawley Ln | $265,000 | $145 | 2009-02-06 | 2008 | 1,830 | New |
| 3043 Adiron Way | $294,000 | $130 | 2008-11-24 | 2007 | 2,260 | New |
| 3047 Adiron Way | $295,000 | $151 | 2008-07-11 | 2008 | 1,953 | New |
| 3061 Bidhurst Ct | $346,000 | $153 | 2008-06-10 | 2006 | 2,257 | New |
| 7052 Sawley Ln | $349,900 | $152 | 2008-06-02 | 2008 | 2,306 | New |
| 7057 Sawley Ln | $323,000 | $123 | 2008-04-30 | 2006 | 2,620 | New |
| 2993 Adiron Way | $377,700 | $152 | 2008-04-04 | 2008 | 2,487 | New |
| 7049 Sawley Ln | $259,800 | $139 | 2007-12-19 | 2007 | 1,868 | New |
| 3064 Adiron Way | $279,000 | $158 | 2007-11-30 | 2007 | 1,761 | New |
| 2989 Adiron Way | $304,000 | $154 | 2007-09-17 | 2007 | 1,968 | New |
| 7044 Sawley Ct | $354,000 | $155 | 2007-07-31 | 2007 | 2,283 | New |
| 7048 Sawley Ln | $377,800 | $144 | 2007-06-15 | 2006 | 2,620 | New |
| 3059 Adiron Way | $365,000 | $169 | 2007-05-22 | 2006 | 2,166 | New |
| 3055 Adiron Way | $296,000 | $161 | 2007-05-15 | 2006 | 1,840 | New |
| 7032 Sawley Ct | $326,800 | $140 | 2007-04-27 | 2007 | 2,340 | New |
| 3045 Bidhurst Ct | $359,900 | $155 | 2007-04-10 | 2006 | 2,329 | New |
| 3044 Bidhurst Ct | $400,000 | $154 | 2007-03-14 | 2007 | 2,600 | New |
| 3056 Bidhurst Ct | $282,300 | $146 | 2007-03-05 | 2007 | 1,931 | New |
| 7065 Sawley Ln | $365,000 | $160 | 2007-02-13 | 2006 | 2,282 | New |
| 7027 Sawley Ln | $296,000 | $159 | 2006-11-30 | 2006 | 1,857 | New |
| 3051 Adiron Way | $299,000 | $150 | 2006-09-06 | 2006 | 2,000 | New |
| 7068 Sawley Ln | $225,000 | $91 | 2006-08-11 | 2007 | 2,474 | New |
| 7044 Sawley Ct | $180,000 | $79 | 2006-05-04 | 2007 | 2,283 | New |
| 7064 Sawley Ln | $361,000 | $160 | 2006-03-31 | 2006 | 2,254 | New |
| 2997 Adiron Way | $212,200 | $85 | 2006-01-03 | 2006 | 2,510 | New |
| 7053 Sawley Ln | $180,000 | $72 | 2005-12-20 | 2006 | 2,503 | New |